Part III: The NNPS Literacy Model
Overview of the NNPS Literacy Model
The Newport News Public Schools utilizes a comprehensive literacy model that promotes student growth and achievement in all four components/strands of literacy: reading, writing, communication, and research by incorporating high-yield instructional practices in daily learning experiences.  A comprehensive literacy model provides teachers the opportunity to:
implement and model explicit instruction in whole and small group settings

provide differentiated guided and independent practice tailored to meet the needs of groups of students

confer individually with students to provide feedback and develop independence

foster inquiry-based learning to promote collaboration and high-level thinking

deliver short-term, targeted interventions to promote acceleration

assess and monitor student progress through balanced assessments: daily formative checks, summative assessments, and performance-based assessments that integrate authentic real-world applications
The NNPS Literacy Model supports the five action steps in the PK-12 Literacy Plan and helps foster the attributes of the NNPS Profile of a Learner. The stages of literacy development included below are embedded within the English curriculum.  However, the integration of reading, writing, communication, and research can be activated, elevated, and extended across all content areas.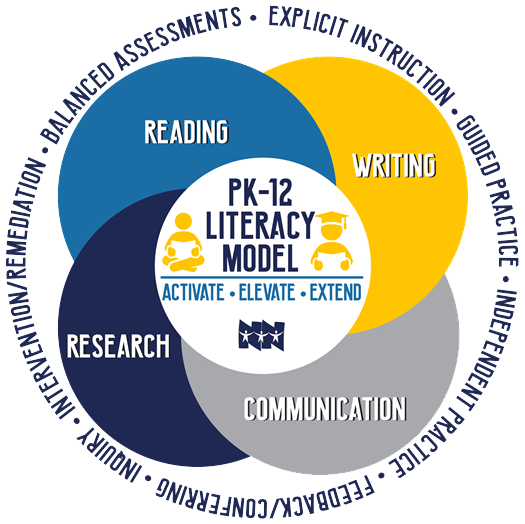 Literacy Defined
Literacy is the ability to read, write, research, and communicate with diverse groups in communities, workplaces, and postsecondary educational settings. Literacy instruction accepts students' home language and cultural literacies as the starting point for all language learning and creates equitable opportunities to develop competency. Literate citizens are able to think analytically, solve problems, communicate effectively, and collaborate with others. Through the rigorous application of literacy skills, in a variety of modes and across all academic disciplines, students become critical thinkers, effective contributors, and global citizens. (Virginia Department of Education)
---
Literacy Curriculum Framework
---