---
Standards of Learning
Virginia Assessment Parent Portal
SY 2022-2023 SOL Administration Schedule
Important note to High School families:
High Schools will be administering the Spring End of Course (EOC) SOL assessment on four designated test days; May 18, 19, 25 and 26. Students taking an SOL, scheduled for remediation, or are participating in grade recovery are expected to attend in person.  All other students are expected to participate in asynchronously learning from home.  Students who are not scheduled to take an SOL may choose to report to school for additional support or grade recovery opportunities. Each school will make your student aware of any required SOL testing.
Students not attending are expected to complete assignments asynchronously in order to be considered "present".
| | |
| --- | --- |
| May 18: | Science SOLs; Biology, Earth Science, and Chemistry |
| May 19: | Reading SOL; 11 grade English only |
| May 25: | Math SOLs; Algebra I, Geometry & Algebra II |
| May 26: | Social Studies SOLs; World Geography, World History I & II, and Virginia & US History |
Bus transportation will run as normal on these days and testing may take up to 3 hours. After testing, students have the option leave school if they have provided their own transportation. Breakfast and Lunch will be served for any students attending.

Students who are testing on these days must bring their fully charged Chromebooks in good working order. The technology department will be available to assist with minor or unforeseen malfunctions during testing, however, please be mindful that schools do not have "loaner" Chromebooks available for testing. Students who arrive without a Chromebook may not be able to test.
We appreciate our partnership with families to ensure your student has a successful and efficient testing administration. If you have any questions or need further clarification, please contact your student's School Testing Coordinator.
---
Results of State Assessments are now available for families when you log into Parent Vue.
Families can access this information under the Test History tab. Please see examples of the desktop view option and mobile view option. If families would like more information or have questions concerning their student's score report, they can contact their student's school's STC for assistance.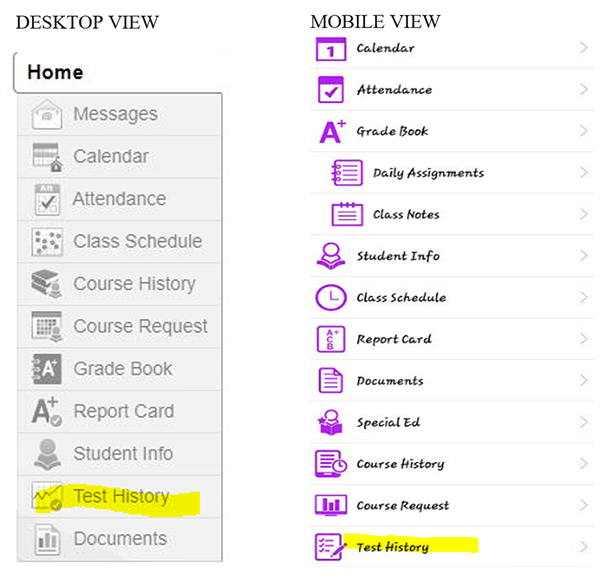 ---
The Standards of Learning (SOL) for Virginia Public Schools establish minimum expectations for what students should know and be able to do at the end of each grade or course in English, mathematics, science, history/social science and other subjects.
SOL tests in reading, writing, mathematics, science and history/social science measure the success of students in meeting the Board of Education's expectations for learning and achievement.
All items on SOL tests are reviewed by Virginia classroom teachers for accuracy and fairness and teachers also assist the state Board of Education in setting proficiency standards for the tests.
Standards of Learning currently in effect are listed on the Virginia Department of Education website.

Virginia's School Quality Profiles provide information about student achievement, demographics, college and career readiness, program completion, school safety, teacher quality and other topics of interest to parents and the general public.