STAR Awards
---
The STAR (Students Taking Action and Responsibility) Awards is a celebration of youth development in Newport News Public Schools.
---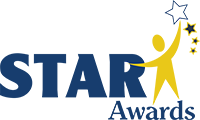 Through service learning and volunteerism, all elementary school students are building their leadership, citizenship and teamwork skills. The STAR Awards program highlights and celebrates how NNPS students are learning to make a big difference in their lives, in their schools and in their community.
An Achievable Dream Academy
An Achievable Dream Academy's scholars have positively impacted the local community in a variety of ways. Scholars had the opportunity to participate in service learning projects and collectively raised over $1,400 for the United Way to support programs within the local community. During the holidays, they collected canned goods to donate to a local church that distributed them to families in need. Scholars recognized that broken crayons ended up being thrown away and decided to collect and up-cycle them. As a school, they were able to collect enough broken pieces to melt and create over 1,000 new heart shaped crayons which were then donated with coloring books to children at CHKD, Menchville House, and a school in the Bahamas.
B.C. Charles Elementary
Kindergarten and first grade classes collected toys for Wes' Wish to support families with children at the Childrens Hospital of the Kings Daughters (CHKD) who have cancer. They also collected plastic bottle tops to help children who need dialysis. Second grade students focused on "Caring for the Earth" by posting reminders around our building and by picking up trash at a local park. They also helped our furry friends at the SPCA by collecting cat and dog food and by raising money for therapy dogs that help children at CHKD. Third grade students showed appreciation to our local police and fire departments by sending holiday cards and Valentine's Day sweets. Our fourth grade students are working on the Kindness Rocks Project where they will decorate rocks with kind messages and share them in the community. And our 5th graders held a Dance-a-Thon to buy books for our local Boys and Girls Clubs.
Carver Elementary
Carver students sold candy grams and donated the money to the local food bank. Others recycled/reused items, cleaned the school's courtyard, and planted flowers to make the school clean and beautiful. Some students volunteered as reading buddies to help special needs students build social skills. Concerned students also took care of a mother goose which had been mistreated. All of these projects impacted our community by bringing awareness to the value of living things, donating to the less fortunate, caring for the world around us, and showed the importance of volunteering with peers.
Deer Park Elementary
First graders at Deer Park Elementary School made items such as: bookmarks, art work, and hand-knitted scarves and necklaces. Each student had a specific job in creating the items and applied for the job which interested them most. Items, including student created art, were showcased and sold at a school event. The money raised was given to the Animal Fund which supports the 70 animals and numerous aquariums at Deer Park.
Second graders collected items for "Hope for the Homeless" bags such as; cold weather clothing, personal care products, and non-perishable food. Items collected were placed into bags and distributed at a Sunday Supper that feeds the homeless. Students also created placemats with their artwork and made napkin rings from recycled materials to decorate and add to the dinner celebration.
Discovery STEM Academy
The Discovery STEM Academy morning show, postal service and student ambassador programs provide an opportunity for 2nd and 3rd graders to lead, organize communication, and lead tours for welcome guests. Kindergarten students adopted a senior living community for which they made special Thanksgiving, Christmas, Valentine's, St. Patrick's Day, and Easter cards. The first graders collected 44 toys to donate to CHKD during the holidays. Second grade students organized a clothing drive to help the homeless. Third graders made sure that the school grounds are free of trash during every recess. They also discussed the effects of pollution on the environment. A special group, The STAND students, collected, weighed and turned plastic bags into the recycling center as part of a competition with TREX, collecting 479lbs of plastic bags.
Dutrow Elementary
As a Global Studies Magnet, Dutrow strives to serve the community on both a local and global level. Dutrow students participated in a food drive hosted by Councilwoman Sharon Scott. Students collected canned goods to be donated to the North Precinct's Annual Food Drive. As members of the global community, Dutrow students participated in a collection drive for a school in South Sudan. Our students collected school supplies for the school and toothbrushes for students in need. Through our Student Council Association, students have worked on service projects to promote causes such as the Leukemia and Lymphoma Society and Child Abuse Awareness Month.
Epes Elementary
At Epes, our 2nd grade students advertised through posters and on the morning show to collect donations for the Peninsula Regional Animal Shelter. Third grade students wrote letters to military members of the armed forces. The students thanked them for their service and for protecting our country and freedoms. Some thank you letters were hand-delivered to service men and women at the school.
Fourth grade students worked to spread the word about the effects of littering on the environment through fliers and videos and even organized an after school group to clean up the neighborhood. Fifth grade students also wrote letters to veterans, patients in CHKD, and in nursing homes. All students participated in clubs including scrapbooking, Readers' theater, technology, STEM and team building games.
General Stanford Elementary
This year, 2nd grade students supported Next Generation Animal Services Inc. The students hosted a school-wide read-a-thon and collected monetary donations and supplies to assist with the shelter's needs. Third grade students read to animals at the Regional Peninsula Animal Shelter and ran a school store using student created materials to raise money for the shelter. Third grade students also raised money to donate to St. Jude's Children's Hospital. Fourth grade students helped the community by creating bird houses to hang up around Ft. Eustis and by visiting a local nursing home. They also created books using the theme "Be Kinder Than Necessary" to pass around to other classes to help lift their spirits. The 5th grade students conducted a school-wide fundraiser to raise money and collected coloring books and crayons to donate to children at CHKD.
Greenwood Elementary
Greenwood students assembled over 70 care packages for cancer patients, helped raise over $1,100 for Relay for Life, and donated funds for the Peninsula United Way "Change is Good" campaign. Greenwood also collected over 400 canned food items, and won 2nd Place overall in the the Youth Volunteer Corps CanStructure competition for the Peninsula Food Bank. The Principal's Advisory Council led Greenwood to collect foods to donate Thanksgiving meals for 10 families, as well as student participation with leadership roles through safety patrols, morning show crew, Library helpers/tech helpers, junior custodians, Mentoring Works, Greenwood GEMS, flag helpers, and Book Buddies.
Hidenwood Elementary
Hidenwood has focused on showing kindness this year. Morning meetings have centered around how we can show kindness to others, ourselves, and our community. First graders collected pennies for pets to raise money for our local SPCA. After noticing lots of trash around the playground, 3 rd grade students decided to beautify the area and to make it a safe and inviting place for all students. Fourth graders collected recycling from the entire school on a daily basis, raising awareness of which materials can be recycled, demonstrating that they could be responsible and trusted to work together in small groups. Fifth grade students reused plastic bags and raised money to buy additional books for the library.
Hilton Elementary
The Hilton fourth grade technology club taught students to be more proficient with Google Classroom and helped them develop digital portfolios for student led conferences. They worked with individual students, small groups, and classes. Hilton's SCA launched a successful school-wide book and canned food drive, collecting over 1,000 books and 500 pounds of canned food items for local shelters and church organizations in just 2 weeks.
Hilton's Girls of Excellence club focused on being responsible citizens, setting goals, and being problem solvers. The students practice teamwork through a variety of STEM activities and are role models for younger female students, promoting positive self-image and anti-bullying.
Jenkins Elementary
By donating spare change, students contributed hundreds of dollars to the United Way and the Leukemia and Lymphoma Society. I-CARE projects focused on improving the community and included, creating Public Service Announcements for natural disasters and donating socks to homeless shelters. During a year-long letter-writing campaign, students expressed gratitude to many, including their families, bus drivers, and even former President Obama! Student Ambassadors led a fundraising project during the Great Kindness Challenge which will help fund the purchase of a Buddy Bench. The Ambassadors also lead a Canned Food Drive, which collected over 1,300 cans. Finally, students with strong academic and leadership skills served as interns around the building to help improve school climate and to help others succeed.
Kiln Creek Elementary
Kiln Creek students have collected pet supplies for a local pet shelter, written letters to military members over seas, helped assist disabled students in their building, wrote letters and made cards for members of a local nursing home and all have participated in clubs throughout the year that have helped them learn new things and have new experiences. These students have all shown great leadership and initiative when learning about the needs of their community and coming up with ways to impact their community in a positive way.
Lee Hall Elementary
This year, students planted "Kinder Garden" to learn how to create a healthy environment and grow food for others. They created beautiful paper flowers to decorate hospitals to brighten the day of patients, and created placemats for Meals On Wheels. The school received a grant which made possible the purchase 60 trees to plant around their community decorated with student written poems about protecting the environment. Students used a letter writing campaign to work with Plant Services in order to have their school's blacktop repaired.
A school beautification effort was started to paint ceiling tiles with their school's character trait "Star Engineers" hand prints. The 5 th grade and SCA held a staff basketball game and collected over 400 cans of food for the food bank, held a supply drive for the Henrico County Public Schools which had a fire, and they worked to create videos in order to teach the school about our character traits.
McIntosh Elementary
McIntosh raised over $700 for the Leukemia/Lymphoma Society, wrote letters to a student that is sick with an inoperable brain tumor, collected newspapers and towels to be donated to the SPCA, collected canned goods for VA Peninsula Foodbank, and raised $155 for Relay of Life. They also collected 470 books from students at McIntosh as well as from donors out of state. Each book had an inspirational message written inside from its donor to be given to students to keep at home. Lastly, kindergartners raised money for a student with Neuro Fabriomatosis.
Nelson Elementary
At Nelson, students focus on helping others and giving back. Their leadership club this year coordinated a fundraiser to benefit pediatric cancer awareness, a Thanksgiving Food Drive, "A Paws 4 A Cause" events for the SPCA, Kindness Kits for individuals in need. The remaining proceeds from various drives were donated to THRIVE Peninsula and the Five Loaves Food Pantry. Nelson also worked on a project for Child Abuse Prevention Awareness and a campaign to help The Menchville House. Their students also participated in various ICARE projects that helped the Chesapeake Bay, soldiers, sailors and many others.
Newsome Park Elementary
Newsome Park Elementary 2nd grade students worked hard to find areas to improve in the school community. The school has 3 courtyards used for outside learning experiences. During a school inspection, students observed that the courtyards had become overgrown with weeds and debris. The students sprung into action and created a plan to include clean-up, planting new flowers and trees, and earning money to repair the pond. The chorus at Newsome Park has participated in many community events.
They provided caroling experiences for the community at the Norfolk International Airport and the Pyramid Concert at Heritage High School. Also, the chorus students looked for ways to earn money to get more upgraded music equipment. They entered the Michael and Son's commercial contest for $5,000. They created a jingle and then recorded a commercial. They were one of 6 schools to win the contest and will use the $5,000 for new music instruments.
Palmer Elementary
Palmer is very proud of our students for STANDING UP for others! Their Safety Patrol stands up for what is right all the time, and no student will be harassed or lost on their watch! Additionally, their SCA representatives created anti-bullying posters and had anti-bullying advocates. Students have also worked on their ICARE projects throughout the school year; helping their kindergarten buddies with reading. Furthermore, the students were so compassionate and determined to help the homeless that they see in their neighborhoods that they made over 50 scarves to donate to the local homeless shelter. Additionally, their SCA representatives started a school wide fundraiser to bring in canned goods, coats, and gloves for the homeless. They even organized a collection of necessities for one of our own Pandas that had a devastating house fire.
Richneck Elementary
Richneck has created opportunities for students to serve the school and the community by having programs such as "Achievers are Leaders" for students which includes jobs for student leaders such as technology helpers, the morning show crew, and the safety patrol. Richneck also has completed community service programs such as collecting food for the Food Bank, Pasta for Pennies, making baskets for nursing homes, making food baskets for needy families and collecting toys for Christmas bags for children in need.
Riverside Elementary
This year students donated Teddy bears to the NNPD and Department of Human Services, 'mugged' people in the community with kindness by giving donated coffee mugs containing packs of hot chocolate, candy canes and notes; collected toiletries for the Peninsula Rescue Mission, donated over 100 pounds of food to the Foodbank of the Virginia Peninsula, donated dog/cat food and cleaning materials to the Peninsula SPCA and began collecting books for K-2 student's summer reading. Kindergarten students made and sold Candy Grams donating $186 to the SPCA and St. Jude. The SCA sold Valentine Grams raising $205 and sold Smarty Grams for SOLs. The proceeds will be used to purchase items for the outdoor classroom. Fifth graders sold Mardi Paws (notes with Mardi Gras beads) donating $55 to the Peninsula Pet Pantry. The kindergarten and first grade students collected money and items to redo the outdoor classroom.
Sanford Elementary
Sanford's third grade students chose to focus on recycling for their I-Care project, largely because they noticed the large amount of recyclable materials-mostly papers and plastics-that were being thrown in the garbage each day at our school. While researching this topic, they found that, sadly, 28 billion pounds of plastic ends up in our oceans each year. Because their mascot is the Seagull, they also focused on how plastic affects sea birds; they found that plastic bottle caps account for the death of millions of these birds annually. They collected bottle caps and, in lieu of recycling them, reused them to create an art piece to bring attention to the effects of plastic debris on sea birds. Additionally, students created recycle bins for each class in their school and, as part of their class jobs they collect and weigh the recyclables each Friday. To date, they have collected over 500 pounds of recycling!
Saunders Elementary
Their students across grade levels have participated in many school and community morale building activities this year. They held a school-wide holidays around the world event, where each grade level shared about a different culture and toured the school.
In kindergarten, the students were dedicated to promoting a positive attitude both in and out of the classroom. Third grade, along with the PE teacher, sponsored a "Treats for Troops" candy drive sending extra Halloween candy to soliders. Fourth grade wrote letters to soliders in Afghanistan and Fifth grade held a shoe drive and donated the shoes to a local women and children's shelter. Saunders also has an ongoing SCA, recycling club, student-student mentors and flag duty boys group.
Sedgefield Elementary
Did you know that Sedgefield Elementary is the only school in Newport News that has a creek on its property? The creek is called Newmarket Creek and it is part of the Chesapeake Bay watershed. Their partners at the Environmental Protection Agency noticed an issue at their school with storm water running into the creek, and storm water can be very damaging to the Chesapeake Bay watershed. Students in third, fourth and fifth grade were presented with the challenge of how to reduce the amount of storm water entering the creek from their school property. Their students researched and created a plan to help reduce the standing water at our school. Their work was part of a Green Schools Initiative Design Challenge.
The students presented their findings and plans to members of the EPA, NNPS Plant Services and other local community organizations. Their plan was accepted and set into motion. Students and volunteers planted over 100 plants and trees near a newly created swell to reduce the standing water. The project is still ongoing and they are excited to see how their students' hard work has helped to protect our Chesapeake Bay watershed.
Yates Elementary
The students at Yates have really worked hard to grasp the concept of empathy and helping others in our community. This year the school adopted a Dialysis unit and discussed what disabilties are and how they could help those with disabilities. The students sold Candy Grams collected pennies, and ran a concession stand to raise money. The proceeds were used to make gift baskets for the patients at the Dialysis Center. All grades collectively made cards and attached them to the gift bags that were taken to the center. Fifth graders conducted an annual fundraiser to raise money for the Children's Hospital and sponsored a clothes closet.