Bullying Prevention at NNPS
NNPS works continuously with students, staff, family members and community organizations to make sure that safety is a top priority.
Childhood bullying is a significant problem nationwide. It can cause school absenteeism, mental and physical stress, poor school performance, poor self-esteem, and, in some cases, school violence. Statistics show that 160,000 children in the United States miss school each day as a result of being bullied. School district administrators, teachers and parents can play a critical role in creating a climate where bullying is not tolerated. It has been proven when adults and children stand together, bullying ends.
As a school division, we work continuously with students, staff, family members and community organizations to make sure that safety is a top priority. NNPS has several bullying-prevention programs in place and a host of other initiatives aimed at maintaining a safe and welcoming environment for our students.
October is National Bullying Prevention Month and STAND Month in NNPS
While October is Bullying Prevention Month, all NNPS students are encouraged to STAND UP for each other to prevent bullying and other negative behaviors every day. STAND is a student-led initiative which challenges students, teachers, staff, parents and the community to work together to create and maintain a positive school culture and to discourage harassing behaviors among peers.
All NNPS students, staff, families, and the community are invited to attend the annual STAND Night at Todd Stadium on Thursday, October 5th at 7:00 pm. This year, the event will also focus on violence prevention and provide an opportunity for our entire school community to STAND Together Against Bullying and Violence during a special half-time Unity Walk, demonstrating our commitment to building violence-free schools. All STAND Night participants are encouraged to wear blue or clothing with an anti-bullying/anti-violence message. NNPS students who show their T-Pass will be able to enter the stadium at no charge. NNPS staff members must show their employee ID to enter the stadium for free. The entrance cost for all other adults will be $5.
Bullying Prevention Programs
NNPS has programs in place to ensure students have a safe and nurturing environment in which to learn. But our partnership of students, parents, family members and others is the most important link in this effort.
SpeakUp Anonymous Reporting System
Newport News Public Schools has launched a new anonymous reporting system. SpeakUp provides a simple way for students and families to easily and confidentially report threats of violence, bullying, peers in crisis and other imminent threats.
SpeakUp's trained safety representatives monitor and evaluate reported tips 24/7/365 and send an email regarding non-life-threatening situations to designated school contacts or district staff members. In more urgent situations, district-appointed contacts are notified immediately by phone. In the most imminent cases, SpeakUp representatives will contact law enforcement to intervene if they are unable to notify a district-appointed contact.
Report safety concerns anytime:
Students may click the SpeakUp icon on their Chromebook
Email

[email protected]

Call or text: (757) 765-4440
Expect Respect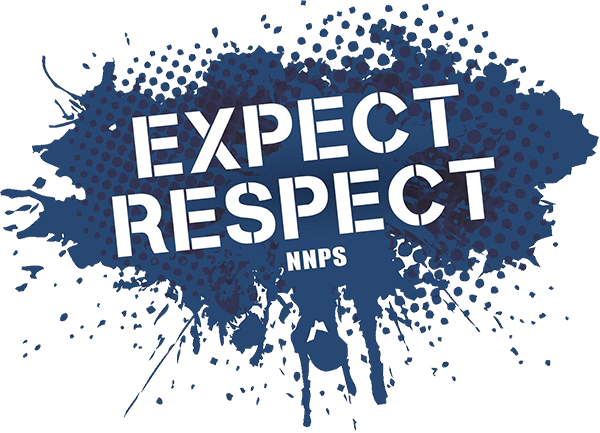 Expect Respect is a middle school bullying and harassment prevention initiative which establishes a school-wide expectation for common respect, teaching what that means, and ensuring that students and staff share in the responsibility of creating positive school environments. Student-led Expect Respect teams train teachers and students on the process of addressing disrespect using a common "Stop" word or phrase to alert everyone that inappropriate behavior is occurring. Expect Respect is an important strategy in our efforts to promote positive school culture and to discourage harassing behavior. The primary goals of Expect Respect are:
To create an environment in which everyone feels safe from bullying and harassment.
To teach everyone to stand up for themselves and others against bullying and harassment.
To make it easier for students to communicate clearly, with other students and staff, when they are not feeling respected.
Promoting Student Safety
Programs and activities designed to promote student safety in Newport News Public Schools include:
Student-led groups that promote student safety and offer mediation in cases of potential conflict among their peers.
Training for teachers and other staff to identify safety concerns and preempt negative behavior.
Comprehensive Rights and Responsibilities Handbook that clearly spells out the behavior expectations for NNPS students. All students and parents/guardians are required to certify that they have reviewed the handbook. And school administrators review expectations for behavior and where to go for help if there's a problem.
NNPS Crime Line for students and others to report safety concerns in a confidential manner (757) 591-3800.
Security officers assigned specifically to all middle and high schools.
Security officers who monitor elementary schools on a rotating basis.
Uniformed police officers at all high schools.
Student Assistance Counselors at all high schools to help students deal with social and academic problems and other concerns.
Cameras inside and outside all middle and high schools.
Cameras on school buses.
GPS tracking to enable NNPS to know where buses are at all times and monitor speed.
Instructional Programs
Specific programs to promote bullying prevention include the Virginia Rules program in our high schools.
The Virginia Rules program was developed and adopted by the state and is designed to educate students on the legal system, their rights, and appropriate behavior as citizens of Virginia and our country. The course is taught by School Resource Officers/Prevention Specialist.