Success Measures, 2021-2022
The NNPS PK-12 Literacy Plan was designed to support Goal One, Student Success in the NNPS Strategic Plan, Journey 2025. Division-wide collaborative efforts include the identification of our literacy core beliefs, vision, and mission; the development of five action steps through the examination of our current reality, research-based practices, and the development of a four-year literacy plan. The five action steps are the guiding principles for the NNPS Literacy Plan. Strategies that support the action steps guide our daily work to create productive and effective learner experiences and outcomes.
Action Steps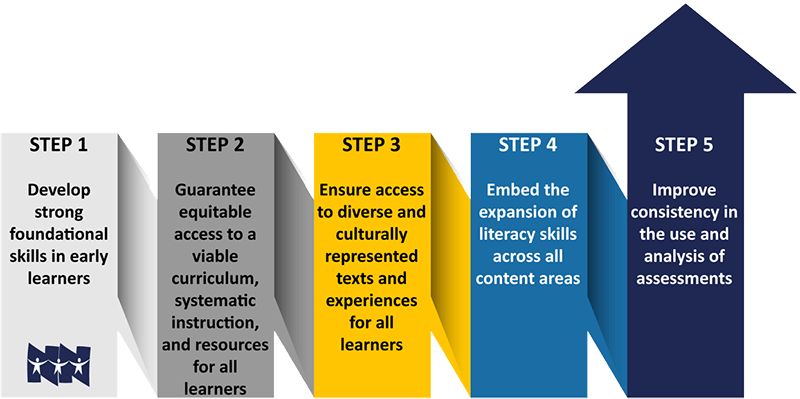 The Success Measures below include accomplishments that were activated during the 2021-2022 school year. As stakeholders review and reflect upon year one success measures, we will continue to progress on our journey to activate, elevate, and extend PK-12 literacy in our schools, community, and beyond.
---
ACTION STEP 1:


Develop strong foundational skills in early learners
---
ACTION STEP 2:


Guarantee equitable opportunities to a viable curriculum, systematic instruction, and resources for all learners
---
ACTION STEP 3:


Ensure access to diverse and culturally represented texts and experiences for all learners
---
ACTION STEP 4:


Embed the expansion of literacy skills across all content areas and grades
---
ACTION STEP 5:


Improve consistency in the use and analysis of assessments