Part I: Introduction
Strategic Goal
Engage and challenge all students in authentic, rigorous, and culturally relevant learning experiences that foster innovation and critical thinking to ensure that all graduates are college, career, and citizen-ready.  Strategic Support: Implement a PK-12 Literacy Plan
Vision
NNPS will activate, elevate, and extend the potential of our community through the development of a comprehensive literacy plan that builds the capacity of all learners as readers, writers, communicators, and researchers while honoring diversity, cultural backgrounds, and personalized learning experiences.
Mission and Purpose
The mission of the PK-12 NNPS Literacy Plan is to support Goal One, Student Success in the NNPS Strategic Plan, Journey 2025.  Division-wide collaborative efforts include the identification of literacy goals through the analysis and examination of our current reality using qualitative and quantitative sources, research-based practices, and the development of a four-year action plan.  Implementation strategies will include innovative and equitable practices that close achievement gaps and increase access to rigorous learning experiences that are reflective of the NNPS Profile of a LEARNER.  Moreover, it is our ultimate goal to build the literacy capacity and joy for life-long learning in all students that will transform our community for future generations.

Early literacy and language development are the gateway for life-long learning and communication.

A strong foundation of literacy includes systematically and explicitly teaching reading, writing, research, and communication strategies.

Students should experience a variety of genres and perspectives that reflect and expand on the diverse world in which they live.

Literacy is the lens through which students interpret and express information in all content areas.

Literacy is a human right. Students deserve equitable access to high-quality teachers, instruction, resources, and opportunities to learn.

A professional workforce is retained through high-quality professional learning that equips all educators to engage students in content and cognitive learning experiences. 

Learners develop background knowledge by reading, listening, and viewing widely, researching topics of personal interest, and talking about their learning with others.
---
Action Steps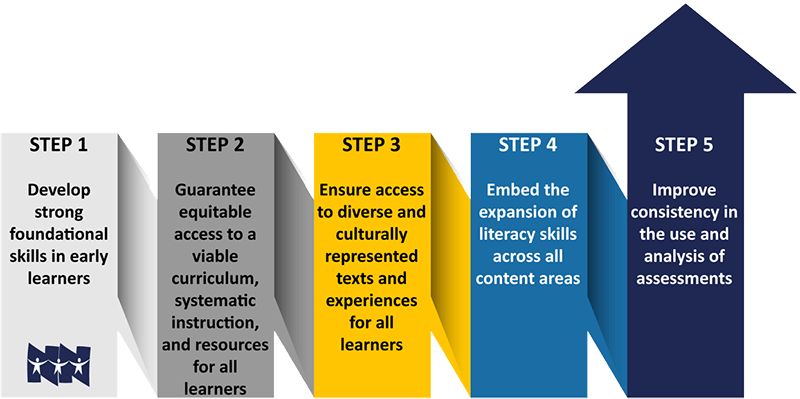 The five action steps were developed from our core beliefs and will guide the implementation of the NNPS Literacy Plan. The Success Measures will inform the division on progress and success towards meeting the NNPS Strategic Goal.
The five action steps are the guiding principles for the NNPS Literacy Plan.  Strategies that support the action steps will guide our daily work to create productive and effective learner experiences and outcomes.  Professional learning and family and community engagement strategies are embedded throughout all five action steps to ensure the engagement of all stakeholders. The NNPS Literacy Plan Timeline will evolve over the course of the next four years to align with the NNPS Strategic Plan, Journey 2025.  
Strategic Success Measures
Number of students who have a joy for learning and can apply literacy skills across content areas (new).
Increase the percentage of schools that are accredited
Growth in subgroup performance as measured by the SOLs
Increased middle and high school student participation in rigorous coursework (AP, IB, DE, Honors, Early College)
Percentage of students reading on grade level by 3rd grade
Percentage of students that have a post-secondary plan
Number of students participating in work-based learning experiences
Increased graduation rate with an increase of Advanced vs. Standard diplomas
Growth in student success on the PSAT and SAT Percentage of students earning a high school credit by the end of 8th grade