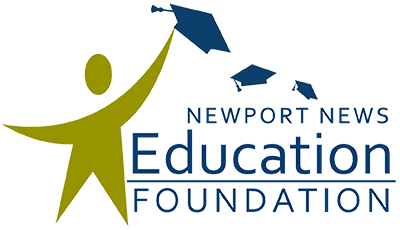 Newport News Education Foundation
What is the Newport News Education Foundation?
Newport News Education Foundation (NNEF) is a diverse group of citizens who support Newport News Public Schools (NNPS) efforts to prepare students for their future. Members bring to the foundation their expertise in business, education, and industry, as well as skills in community and military leadership.
NNEF serves as a convener and facilitator providing events and programs to encourage dialogue between the business and education communities, enabling them to understand what each can do, in collaboration, to ensure the outcome of career-ready students.
NNEF also raises private sector funds to support NNPS in delivering innovative programs in their mission to graduate career-ready students armed with the skills and industry-sanctioned certificates making them employment-ready for local industry.
For more information, call (757) 591-4502.
---
Mission: To enrich the quality of teaching and learning by strengthening innovation through sustained business partnerships.
Vision: Students are thriving in an educational environment full of opportunities to succeed in work and life.
Priorities 2022-2023
Advocating for full funding of NNPS
Providing for opportunities for innovation
Supporting regional workforce demands
The Newport News Education Foundation seeks to:
Facilitate more open active and fluid connections and relationships for partners and prospective partners.
Advocate on behalf of Newport News Public Schools.
Communicate in all directions – to the community, public and throughout the school system.
Educate in all directions – to the public about the outstanding opportunities available to students through the school division, and to the Superintendent and staff on perceptions and areas in need of reward/repair.
Please visit our Giving Page to make your donation to the Newport News Education Foundation. Thank you for support and generosity!

Salute to Success: Student Recognition Celebration
Newport News Public Schools is home to many outstanding students and together, through our Annual Salute to Success Student Recognition Dinner, the Newport News Education Foundation honors and celebrates the resilience and perseverance of our top students who have made extraordinary accomplishments towards the goals of becoming college, career, and citizen ready.
This year, we recognized top Career & Technical Education students who have earned four or more Industry Certifications, have been recognized by the National Merit Program, have demonstrated Academic Excellence at the top of their class, have demonstrated extraordinary Civic Leadership, are Class Valedictorians and Salutatorians, and we introduced the 2022 Lett Scholar of the Wayne D. Lett Scholarship, which is funded through donor support. Since pivoting to a virtual event last year, we are thrilled to be back together again in person.
Meet our newest 2022 Wayne D. Lett Scholarship Student Beneficiary!
Each year, the Newport News Education Foundation selects a student applicant from Newport News Public Schools to receive the $10,000 Wayne D. Lett Scholarship. Join us in celebration of our 2022 Lett Scholar, Lauren Francis, a senior at Woodside High School! The student beneficiary must commit to teach in Newport News for three consecutive years after graduation. The beneficiary will also have the option to complete a student teaching assignment in the school division.
Teacher Innovation Mini Grants
The Newport News Education Foundation and National Council of Jewish Women have once again joined forces to offer classroom mini grants of $50 to $500 for NNPS teachers. Mini grants provide "seed money" for innovative classroom initiatives that enrich the educational experience for students.
Additional information and the mini grant application form are available below.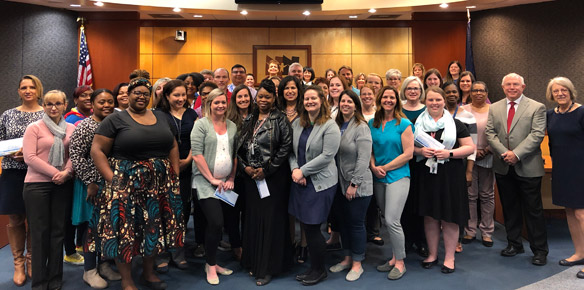 2019 Teacher Innovation Mini Grant Winners