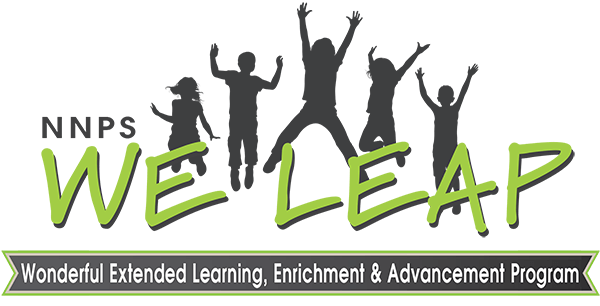 Karen Lynch
Extended Learning Administrator
Christine Monteith
Secretary
---
---
WE LEAP Program at NNPS
WE LEAP (Wonderful Extended Learning, Enrichment and Advancement Program) is a free after-school and Saturday enrichment program for grades 3 through 8.
In 2016, Newport News Public Schools was awarded a $2.4 million Virginia Extended School Year Grant to support afterschool, Saturday and summer learning opportunities for students. Continued funding from the Virginia Department of Education has allowed this enrichment program to continue at various elementary schools and one middle school.
Join Flying Classroom on over 55 STEM+ global expeditions that contain over 150 engineering design challenges to be utilized during the academic day, extended learning, or for summer programming. As a supplemental curriculum, Flying Classroom promotes STEM+ learning in all core and elective courses.
Learn more about Flying Classroom!
Newport News Students in Action!


Outreach provided by the following community partners: