Clerical Apprenticeship Program
Purpose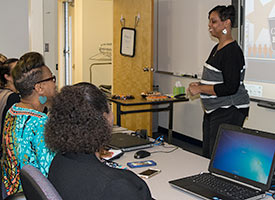 The purpose of the Clerical Apprenticeship Program (CAP) is to ensure the professional development of all clerical employees by providing relevant, educational & on the job training. The Apprenticeship Program is Virginia registered using an occupation specific training model that produces highly skilled workers to meet the demands of employers competing in a global economy. Employees may earn increases to their salaries with successful completion of level requirements.
Benefits
Some of the benefits to the staff will be:
increased pay for a higher level of skills
increased knowledge & skills
increased competitive edge
strengthened bond between management, supervisor, and employee
nationally recognized credential
no charge to the employee for coursework
The school system will benefit by having a highly qualified work force that will ensure a commitment to customer service and organizational expertise.
Who is eligible?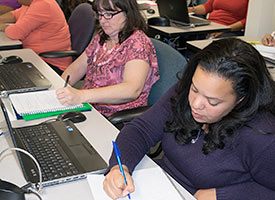 Any non-probationary contracted employee below Grade 26 who is in good standing is eligible to enroll.  "Good standing" is defined as not having a Performance Improvement Plan (PIP) or write-ups and demonstrating good attendance. 
Employees must have at least a high school diploma or GED to participate in the program. 
Participation in the program is voluntary.    If an employee chooses not to participate, he/she will continue to benefit from the standard pay scale.  
The employee must participate on his/her own time.
If an Apprentice is promoted to a clerical position above Grade 26 during the apprenticeship cycle, the Apprentice may continue the program, but will not receive an additional pay increase for program completion.
How do I enroll?
Complete and submit online application during enrollment period. 
The application includes the following:

professional resume,
copy of high school diploma or GED,
written response explaining why the applicant would like to be part of CAP, and
recommendation from your immediate supervisor. 

The Apprenticeship Training Program for Clerical positions is a two-year program.  Once the program begins, new apprentices will not be added.
Contact the Human Resources office for application period dates.
Selection Process
Eligible candidates will be interviewed before being selected.
Must have a principal/supervisor recommendation.
Candidate must provide a resume to the interview team.
Class Format
Classes will be offered in a variety of modes of instruction, including in-person, online, and hybrid (a combination of both).  Laptops with webcam will be distributed.
Expectations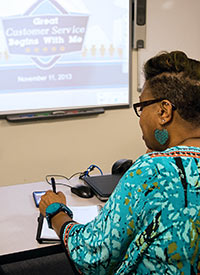 The Apprentice is expected to maintain a passing grade, "C" or better in all courses.
The Apprentice is expected to attend ALL scheduled courses.  If an Apprentice has more than two (2) absences (for any reason) each year during the apprenticeship cycle, he/she will be removed from the program.  It is the responsibility of the apprentice to request and submit missed work prior to the next scheduled class. No exceptions will be made for illness, vacations, parent conferences, part-time jobs, etc. Apprentices may be asked to research the missed topic and to write a paper or complete an alternative assignment to hold them accountable for the missed content.
The Apprentice is expected to be prepared for class and complete ALL required assignments by the due dates given.  The Apprentice should contact the Human Resource Training and Development Coordinator immediately if unable to adhere to any deadlines.  Grades will be dropped 10 points per day the assignment is late.
If the Apprentice has any work performance issues or disciplinary occurrences while in the program it will result in the Apprentice being dropped from the program. Apprentices are expected to notify the Human Resources Training and Development Coordinator of issue and/or occurrence.
All assignments and online classes shall be completed on personal time, not NNPS time.
The Apprentice will be supported by a mentor and will complete on-the-job training hours required by program.
The Apprentice must demonstrate desire for advancement by applying and interviewing for a clerical promotion/position no later than two years after receiving CAP certification or serve as a mentor for one two-year apprenticeship cycle.
If the Apprentice does not apply/interview for promotion/position or serve as a mentor as described above, all tuition and fees paid by NNPS on the behalf of the apprentice including the 3.5% pay increases will be repaid to NNPS within one year following such decision.
Successful Year 1 & 2 Completion will include:
Successful completion of all required coursework and 144 classroom hours per year,
Completion of all on the job training (minimum 1,000 hours per year),
Receive a recommendation from immediate supervisor and Clerical Advisory Board, and
Satisfactory performance evaluation.
Year 1 & 2 Rewards:
A 3.5% salary increase after successfully completing Year 1 and Year 2
Certificate of Completion of Apprenticeship from the Department of Labor and Industry, Commonwealth of Virginia approved by the Virginia Apprenticeship Council
Recognition at School Board Meeting